Prayer For The Day
I pray that I may do the things that make for peace. I pray that I may have a mission of conciliation.
***This Adam and Eve Commercial was Banned***
PAY IT FORWARD for Yesterday: I helped a disabled older woman put her groceries in her truck at the supermarket. At first she hesitated -- must have thought I was a wierdo. But we both parted with a smile.

Me?

I'm going to show my age here... Remember the song and video, We are the World. I recall watching that video and listening to that song with tears in my eyes. The world uniting together to promote world peace and stop hunger -- sigh.

I was so touched by this song. So I can't help wonder what happened to me. When did I lose that peaceful, easy feeling?

Me, me, me -- enough about me; Let's move on to the Daily Prayer.

Well, I'm not completely sure to what peace this prayer refers. When I think of peace -- the first thing that comes to mind is inner peace. But I ask myself, "Which came first, the chicken or the egg... inner peace or conciliation?"

Perhaps, the two work as a team -- hand in hand, complementing each other -- like Tom and Jerry or Laverne and Shirley.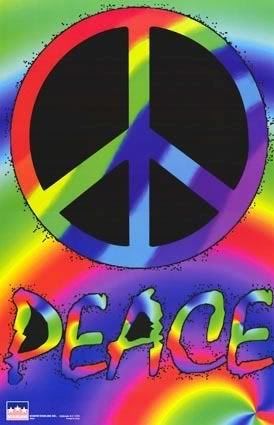 One thing I know for sure... I can't begin to reconcile with others until I'm reconciled with me. So for now, my mission of conciliation is with me and my Higher Power.
Sue
Peace be with you all.
What is your opinion on inner peace and conciliation?
TO THE READERS:
Thanks to a blogger friend... I have taken her suggestion to get outside myself and perform a random act of kindness each day.
Learn more about the Susan/Susan Recovery Project or visit posts on Love, Free Will, Acceptance, Change, Waste, Balance, Selflessness, Happiness/misery, or Imperfection.